Here is the best collection of Top 15 Best Riding pants in India.
Bikers want to feel comfortable while they ride their bikes, but not all pants are made for the same purpose. Some are meant to be more durable than others, and some can be worn in more situations than others.
If you're a biker who wants to find the best riding pants for bikers in India, then you should know that there is one brand out there that makes great biking pants. These particular types of pants will improve your experience because they were designed with bikers in mind.
If you are serious about riding and doing long rides, I recommend you check helmets under 5000 and 10000 rupees.
I also recommend you get a Riding Jacket and Riding Pants with Boots and Gloves to be safe in all the conditions.
Why wear riding pants while riding a bike
Riding pants are more comfortable than jeans.
Riding pants offer better protection from the elements, such as rain and wind.
Riding pants help keep you warm in cold weather.
Riding pants protect your legs from bugs or other debris that may be on the ground while riding a bike.
Wearing riding pants can make you feel more confident when biking because they're made of thicker material and look nicer than normal jeans or sweatpants.
Rynox Airtex Riding Pants
KNOX Micro Lock Armours-CE (EN-1621- Level 1) Knee and Shin (Leg) 
2-Way waist adjusters to ensure a snug fit
Detachable Liner 1: Internal Warm Insulation Liner
Detachable Liner 2: External Waterproof Liner 
Foam Hip protectors
Mesh Panels at the front and back to ensure maximum ventilation
2 Front Pockets to store essentials
RYNOX Advento Motorcycle Riding Pants
Detachable Liner 1: Internal Warm Insulation Liner – Best in Class | Full Length | Extra Cozy | Heat Stitched
Detachable Liner 2: External Waterproof Liner 
Unique KneeSlap mechanism
AERO-FLIP mechanism 
Knee fastening buttons 
This is the flagship pant with some Rynox Exclusive features which is compatible with all terrains. These allow you to adjust the KNOX Leg armour per your height.
Riding in the heat is tough, especially if you're wearing heavy leathers.
We've all been there – sweating buckets while trying to enjoy a ride with friends. It's not just uncomfortable, it's dangerous! You can't focus on your surroundings when you're dripping sweat and feeling dizzy from dehydration.
Rynox Advento Motorcycle Riding Pants are designed for comfort on hot days and long rides. Our pants have vents at the front of the knees, allowing airflow to keep you cool even during intense riding sessions. The mesh panels along the thighs help regulate temperature by wicking moisture away from your skin so that it evaporates into thin air, keeping your legs dry and comfortable no matter how hard you push yourself or how long you ride!
Rynox Stealth Evo Riding Pants
Stealth Evo pants are engineered for the perpetual traveller who is unphased through any terrain, weather or ride
Trousers with understated aesthetics and a super-functional design
Knee + Leg: KNOX Microlock CE Level 1 certified 
Increased Daytime Visibility: Hi-viz orange 3D mesh in air vents Increased Low Light Visibility:
Retro reflective detailing on thighs and calfs
KneeSlapTM: Rynox Exclusive knee armour positioning mechanism. 
With understated aesthetics and a super-functional design, the Stealth Evo pants are engineered for the perpetual traveller who is unphased through any terrain, weather or ride.
Riding in the rain is not a problem for most of us, but when it comes to colder climates and times of year, you need something more than a pair of jeans.
The issue isn't that riding gear is expensive, or even that it's hard to find good fitting gear… It's that there are so few options available for riders who want high-quality protective clothing at an affordable price point.
Rynox has taken the guesswork out with their Stealth Evo pants! These pants will keep you protected from cold weather while still being able to ventilate if needed. They also have a detachable liner which can be worn separately as rainpants! This means you get 2 pairs of pants for the price of one!
Rynox Storm Evo Riding Pants
Lightweight and sturdy 3D mesh with dual-fold knit
Touring fit with Augmented grip material on the seat
Accordion stretch panels on waist
Girth adjusters on waist and bottom hem
2 pockets & Jacket Connection Zipper included
When you are on the go, you want to be comfortable and look good.
Choose from a wide range of pants that are sure to keep your style game strong.
Rynox Riding Pants will give you the comfort and style you need while out riding in any weather condition. The material is lightweight and breathable so it keeps your temperature regulated no matter what time of year it is or how long you're going for.
With an accordion stretch panel on the waistband, these pants will fit comfortably over your boots with ease regardless of how tight they may be laced up. A girth adjuster at both the waist and bottom hem guarantees that this pair of pants won't ride up as they get wetter throughout use, keeping them right where they need to stay until dry again!
Axor Reisen Riding Pant
CE certified
3M TPR Scotchlite Reflector and Velcro waist adjuster
Easy access pocket and Anti Slip material
Accordion panel for flexibility and 1000D Accidental Patch
Mesh fabric for Ventilation and Zip for fitting
Axor De'tour Riding Pant
ICE and CE certified
3M TPR Scotchlite Reflector and Velcro waist adjuster
Easy access pocket and Anti Slip material
Accordion panel for flexibility and 1000D Accidental Patch
Mesh fabric for Ventilation and Zip for fitting
Tarmac Drift Riding Pants
Tarmac Drift Pants were conceived because we felt there was the need of a well priced riding pant that would still serve the purpose. These super light slim fitting pants provide removable protection on the knee as well as the hip and the detachable dual layered waterproof liner allows you to use them in any season.
Scala Street Riding Pant
Sporty fit
Double-stitched construction done throughout.
Non-slip heavy duty Polyester Matt material on hip
Adjustable knee fastening Velcro belts to adjust protectors.
YKK zippers
Jacket connection zipper.
Stretch panel above knee and waist better comfort.
Raida Rover Riding Pants
Grip panel at seat
Reflective Logo & Trims
YKK® Zippers
Zippered, expandable calf gussets to fit the widest range of boot styles/sizes
Jacket-to-pant connection zipper
Viaterra Spencer Riding Pants
Spencer street mesh motorcycle riding pants with CrossflowTech and FocusFit design philosophy making it truly built for the ride regardless of the distance.
Alpinestars Andes V2 Men's Street Pants
Zippered, waterproof hand pockets, plus cargo-style pockets for convenience and peace-of-mind storage.
Reinforced polymer-printed texturing in critical knee areas for added abrasion resistance.
Integrated reflective graphic details and logos improve rider visibility in varying light conditions.
Adjustment waist system features buckle and stretch material for highly customizable fit.
Removable long thermal liner ensures comfort on hot or cold days.
Adjustable, removable bib braces improve comfort fit.
Optimized for use with the Andes DRYSTAR V2 Jacket with internal waist connection zipper.
RS Taichi Air Riding Pants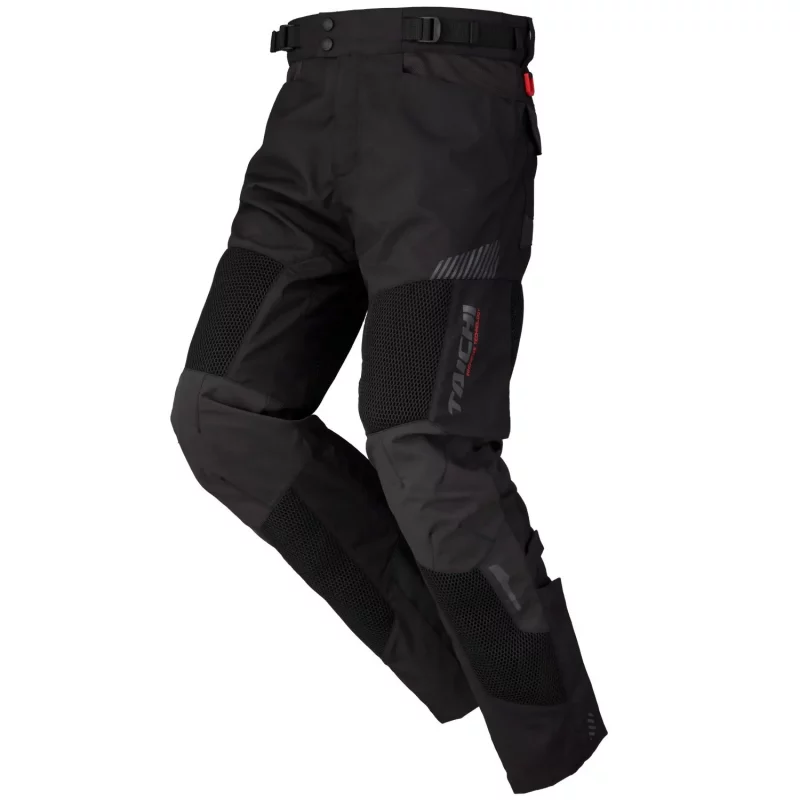 Air through adventure concept riding pants with a 3D mesh panel on the front and back thigh and shin.
3D mesh air vents on front and back thigh and shin.
CE LV.2 protector equipped on knee
Equipped attachment for chest protector (separately sold).
It is detachable by a snap button.
RS Taichi Drymaster Riding Pants
Adventure concept pants for all weather by adopting a large ventilation that surpasses the heat in addition to
Waterproof and breathable material that makes it comfortable when running in the rain.
High motility is ensured by not adding insulation material.
Large ventilation (around thigh).
Adjustable CE Level 2 armor at knee.
Foam pad armor at hip.
T-Dry. Reflective elements. dynatec schoeller. Teflon HT high tech fabric protector.
Conclusion
Motorcycle Riding pants are a must-have for anyone who rides. Finding the best riding pants is no easy task, but we've done all the research to make it easier on you! We hope you found some great options in our list of 10 Motorcycle Best Riding Pants and that this article has been helpful. If there was anything else about buying riding apparel that you wanted to know or if you want any more suggestions, please let us know by commenting below. Happy Riding!
Vishwanath Mathpati
I am Vishwanath Mathpati, a full-time Blogger and Motorcyclist from Bidar, Karnataka. I love writing about my Motorcycles Stories and Riding Gears on this blog.
Know More About Me.
---